Back to picture list
Chloride Cliff Area Map
The main sites of interest
in this area are:
Chloride City
Big Bell Mine
Keane Wonder Mine
Monarch Canyon
Chloride City can be reached via dirt roads that begin on either side of Daylight Pass. One of these dirt roads passes right by the top of Monarch Canyon. Another dirt road reaches up to the bottom of Monarch Canyon. At this time the area around Keane Wonder Mine is closed. This closure may also include the Big Bell Mine as well as other mine ruins in the immediate area. Call the DVNP for details.

(continued)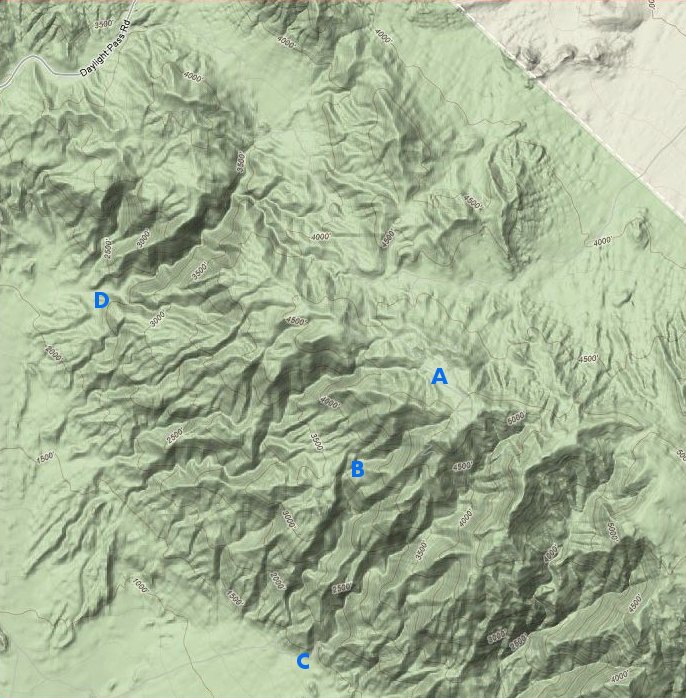 Chloride Cliff
Chloride Cliff and Chloride City contain lots of interesting ruins. There are five areas of interest located in Chloride Cliff area: Crowell's mercury mine, Chloride City, the Dugouts, Franklin's Mill, and Chloride Cliff.
Big Bell Mine
The extensive ruins at the Big Bell Mine require a little hiking to get to. There are three routes that can be taken. Hiking down the canyon directly from the area near the Dugouts is the most enjoyable. Lots of debris is scattered along the way and there are a few easy rock ledges to crawl down. I took the canyon down to the mill and then I took a steep trail on the way back. The trail takes off from near the outhouse above the Big Bell Mill area and leads north and then back around east and south to Chloride City. The way to reach Big Bell Mine is to take the extremely steep Cable Road. (It is also possible to hike up from the Keane Wonder Mine. At this time the area has been closed due to concerns about hazardous waste and other safety issues.)