Lost Meadow Loop
---
DISTANCE: 14.2 miles
GAIN/LOSS: 1640 feet
HIGH POINT: 8880 feet
LOW POINT: 7866 feet
BEST TIME OF YEAR: Summer to early Autumn

---
This hike takes you through four scenic meadows (Albanita, Lost, Beck, and Corral). Depending on when you actually do this hike, you may get to mingle with a bunch of cows or you may see several bears. On one hike during the summer of 2014 I saw five bears. Also along this route you will encouter a few waterholes, including Albanita Spring, Waterhole #3, and others in Beck and Corral Meadows. Additionally, the route passes by Jackass Peak, Smith Mountain, between Finger Rock and Crag Peak, and it also offers great views of Olancha Peak.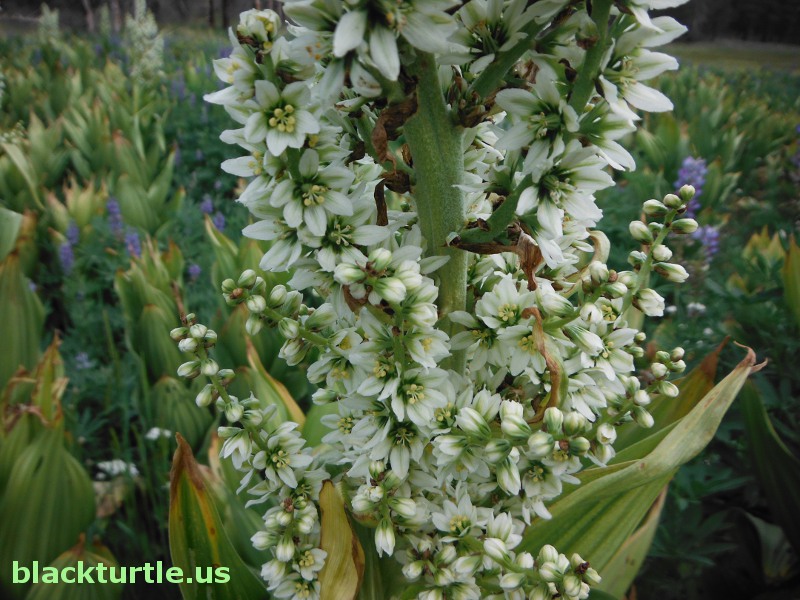 Corn Lily below spring in Corral Meadow (click to enlarge)
---
IMAGES:
See sets for Smith Mtn., Corral, Hooker, Lost, and Broder - July/August 2014.


TRAILHEAD: The trailhead can be reached from the west, but directions here are given from the east, starting on Highway 395, 2.2 miles north of Pearsonville. Turn west onto 9 Mile Road and drive about 24 miles to Kennedy Meadows. Turn left onto Sherman Pass Road (Forest Route 22S05) and continue about 15 miles to Forest Route 21S41. Turn right and continue by the Blackrock Ranger Station, eventually turning right at a sign for Monache Jeep Trail approximately 3.5 miles beyond the ranger station. Continue another 5.8 miles to the end of the road, passing a left onto Monache Jeep Trail along the way. The last few hundred yards of the road will be dirt.
---
HIKE DIRECTIONS: Hike about 200 yards on old road which continues (east) from the parking area. Turn left and hike up a steep trail. At a little over a half mile from the trailhead you will reach the Albanita Trail at a point where it intersects with the Jackass Trail. Hike east along the Albanita Trail about 0.2 miles. Here you will find several trail signs, including signs indicating that you have reached the western boundary of the South Sierra Wilderness area. Continue hiking east from here. Shortly you reach an intersection with an unofficial trail which veers to the right. Stay left and continue about a half mile to a T-type intersection. Turn right toward Albanita Meadow and do your best to stay on the trail. There are cow trails that meander throughout the area and so it is necessary to pay close attention to where you are going to avoid absentmindedly taking a cow trail.

At approximately 2.8 miles from the trialhead you will get to a trail sign for Lost Meadow where the trail veers to the northeast and Albanita Meadow turns almost directly south. Follow the trail to Lost Meadow and at the north end of Lost Meadow (approximately 4.8 miles from the trailhead) you may want to take a slight detour to visit Waterhole #3 as mentioned below. Otherwise follow the trail (faint in places and also blocked by many downed trees) into Beck Meadow, dropping over five hundred feet in the process.

Once you reach Beck Meadow turn south. Parallel cow paths head up the meadow, by a spring and an old corral, and continue south between Finger Rock and Crag Peak. The cow paths eventually form a single trail which continues up the steep slope south of the meadow and to a prominent saddle located about three miles from where you first enter Beck Meadow. This is the most critical point along the route as you must now head more or less west, maintaining your elevation for close to a half mile before dropping into Corral Meadow. There is a use trail most of the way between the saddle and Corral Meadow, but it may be hard to locate. In any case, do not drop into the drainage south of the saddle. Although it is a beautiful area, it will result in a rather long detour as described below.

From the east side of Corral Meadow, hike north to a water trough that's located just below a spring. An old cow trail heads west from the trough and takes you over the hill to Albanita Meadow. The trail turns north once it hits Albanita Meadow and after following it for about a mile you will reach the sign for Lost Meadow that was encountered at about 2.8 miles from trailhead. From this point just retrace your route back to the trailhead.
---
Suggested Variations:
1) Waterhole No. 3 - Located near the northeast end of Lost Meadow is a rock-lined spring which was named after a movie released in 1967. A chimney is supposed to be located nearby. The spring is a short distance to the northwest of the trail, just before the trail leaves the meadow.

2) Drainage Southeast of Corral - From the saddle mentioned in the hike directions, it is possible to drop into a drainage which includes a spring and a couple water troughs. Just follow the cow trail south from the saddle as it drops into the drainage. It's about a mile or so down to the troughs.

3) Corral Spring - The spring above the trough in Corral Meadow is just a short distance off the route. It's fenced off to keep cattle from romping around in the mud.

4) Alternate Trail - An alternate route, which is actually a bit of a short cut, heads off
to the southeast from the actual route just east of the South Sierra Wilderness boundary.

5) Hooker Meadow - Although it would add three or four miles to the hike, it is possible to hike south to Hooker Meadow from Albanita Meadow. There are remnants of a cowboy camp on the west side of Hooker Meadow, located amongst some aspen trees, some of which were burnt in a wildfire several years ago.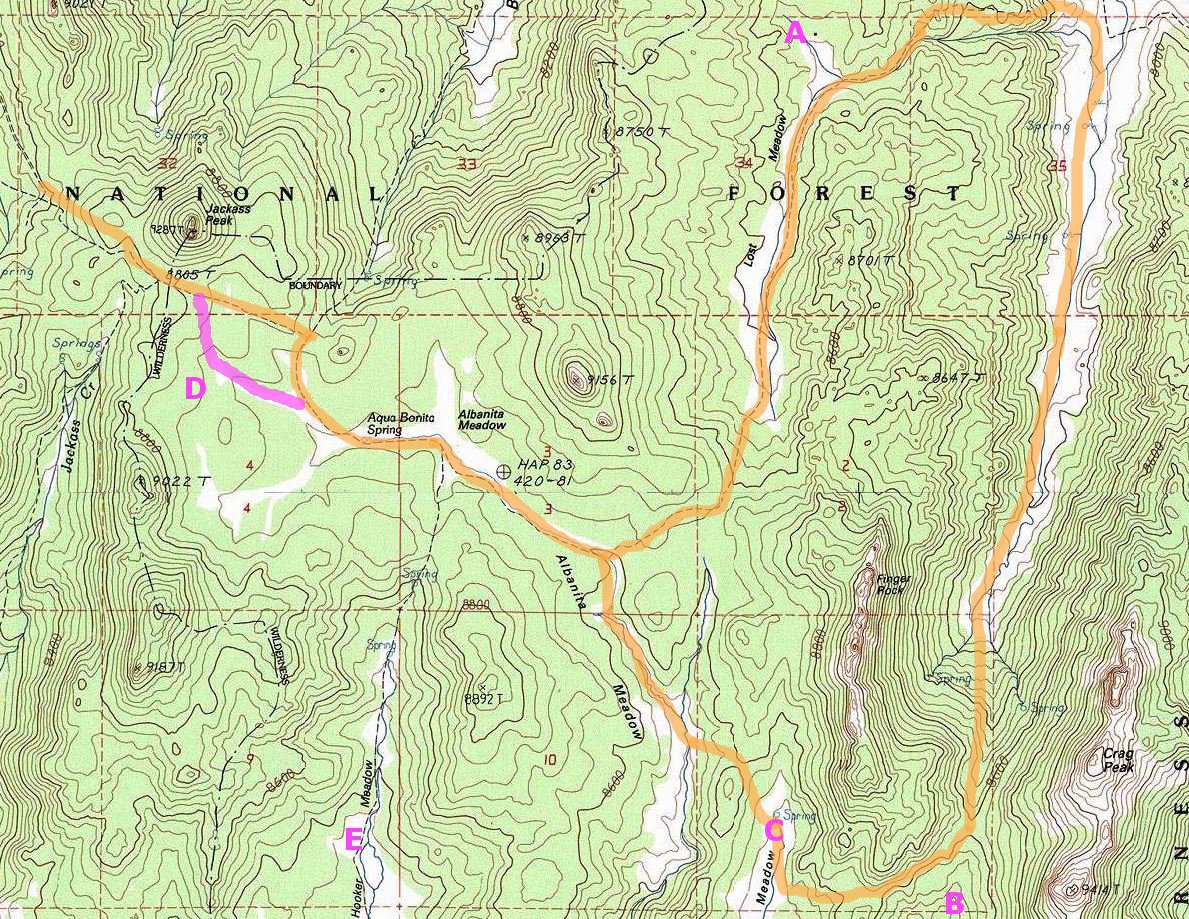 Click map to enlarge in new window!
---
---



---
---


---
---


---
---
Entire site,
Copyright ©
2003-2022
blackturtle.us


---