ISHAM CANYON EAST LOOP
---
DISTANCE: 6.0 miles
GAIN/LOSS: approximately 1000 feet
HIGH POINT: 3040 feet
LOW POINT: 2100 feet
BEST TIME OF YEAR: October through April

---
This loop hike utilizes several dirt roads which are open to vehicles, but it also passes through a couple roadless canyons. The hike begins at the mouth of Isham Canyon and after hiking a short distance along the base of the Slate Range, the route veers up an unnamed canyon and follows the canyon to the road which leads to Fish Canyon (P68). The route eventually goes by Manly Pass and then drops into Isham Canyon via a side canyon and finally follows P67 back to the trailhead.

Owl's Clover near Manly Pass
(click to enlarge)
---
IMAGES:
Isham Canyon Area


TRAILHEAD: Drive 3.6 miles north from the Inyo County line marker on Trona Road (Highway 178) and turn right (east) onto P68 at the "Valley Sand and Gravel" sign. Drive 1.7 miles and turn left (north) onto P67. P67 is not always properly signed, but it can be found at the bottom of a dip just before the ruins of some kind of ore processing facility are reached. In fact, after turning left onto P67 you drive right by some of these ruins as you head off to Isham Canyon. Shortly after passing through the ruins make sure to stay left where an illegal road continues more or less straight ahead. The mouth of Isham Canyon is reached after about 1.4 miles. Park a couple hundred yards short of the mouth of the canyon.

It is possible to drive about half way up the canyon in a normally equipped off-road vehicle. The top half of Isham Canyon is somewhat famous as an obstacle course used by off-road enthusiasts to test their rock-crawlers. There are many videos on YouTube showing some of these people and their rigs. Manly Pass is found at the top of Isham Canyon and can be reached by continuing on P68 and veering left at about two tenths of a mile beyond the ruins previously mentioned. Follow P68 several miles and turn at P67 to reach Manly Pass the back way, utilizing a normally equipped off-road vehicle.
---
HIKE DIRECTIONS: Begin by hiking east along the base of the Slate Range for about a third of a mile. Turn north and hike up an unnamed canyon. There are a few easy rock obstacles to climb over, but nothing which even requires the use of hands. Continue through canyon, staying right to pass by side canyons at 1.25 miles and 1.4 miles, and then left at 1.55 miles until a road (P68) is reached at 1.95 miles. Follow the road (which heads towards Fish Canyon) for about a mile until the intersection with P67 is reached. Turn left and head towards Manly Pass. Just before Manly Pass continue west and follow closed road. Veer left at about 4.15 miles (from TH) and continue into wash which eventually turns into a rocky side canyon.

There are a couple rock obstacles in this area which require the use of hands. In particular, at approximately 5.0 miles a forty foot rock wall is encountered. It is possible to crawl down the wall or to bypass it to the right. At about 5.25 miles the road through Isham Canyon (P67) is reached. Follow it down just beyond the mouth of the canyon, where you will hopefully find your vehicle.
---
Suggested Variations:
1. Manly Pass Shortcut: Turn right at the side canyon encountered at 1.40 miles and follow it up to its head. Continue over ridge, but stay west of the high point. From there drop down towards Manly Pass. This cuts well over a mile off the total distance of the hike.

2. At 2.3 miles leave the road (P68) and hike due north over the ridge and then drop down to the road (P67) which heads towards Manly Pass. This cuts off a little over a half mile.

3. Follow road (P67) down Manly Pass and straight down Isham Canyon. This takes you through the area that off-road enthusiasts use as an obstacle course to test their rock crawlers. This shortens the hike by close to a mile. It should be noted that the slope
immediately below Manly Pass is extremely slick and care must be taken not to slip and fall.

4. Panamint Valley Overlook: Before hiking down the wash at about 4.15 miles, head north slightly over a half mile. There should be remnants of an off-road vehicle route through here that you can follow. On the way back to the loop route cut to the west to save a little distance. This adds a bit over a mile to the hike.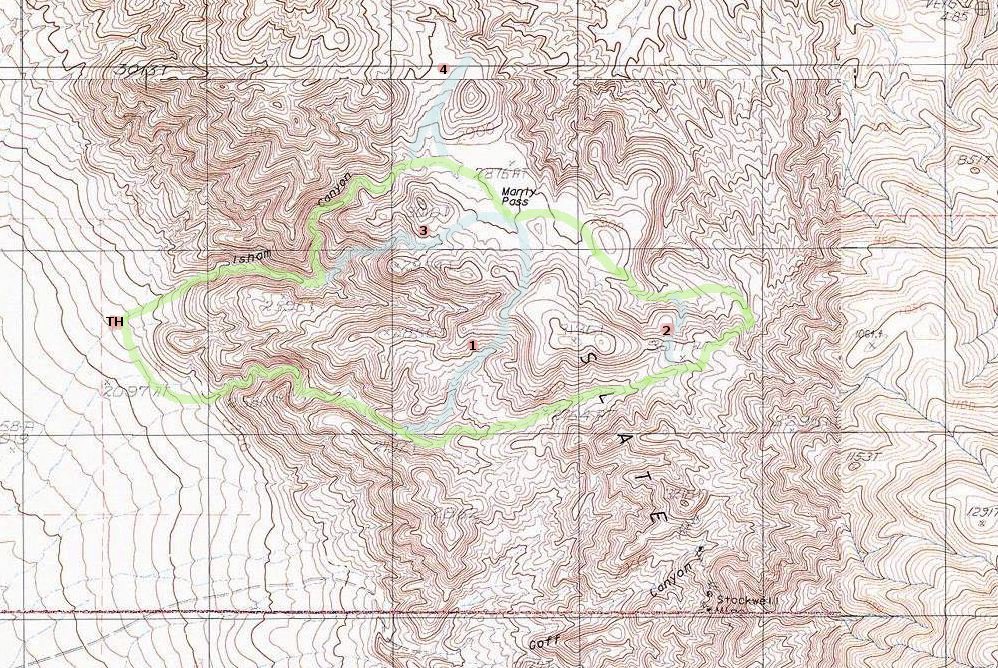 Click map to enlarge in new window!
---